Want to become a great speaker? Come and see how great public speakers are made at Glen Abbey Toastmasters! As of September 2022, we will be doing a mix of virtual and in person meetings. 
Wednesdays – 7:30 pm to 9:30 pm
Welcome To Glen Abbey Toastmasters
Want to be the improve your communication skills? Excited about leading a community meeting? Looking forward to be successful in your interview? Find Your Confident Voice This Year!
Master Communication Skills
Strong communication skills can help us in all aspects of daily living – business success, career advancement, relationships with family members and getting along with others in general.
We're Here To Help
Toastmasters will help you to: speak and present compellingly; think quickly and clearly; listen effectively, and become a stronger leader. You will learn these skills and more in a supportive, self-paced, affordable, and fun atmosphere.
Are you ready to take your first step? Be our guest at the next Glen Abbey Toastmasters meeting.
Why Do People
Join Toastmasters?
Click the video to find out!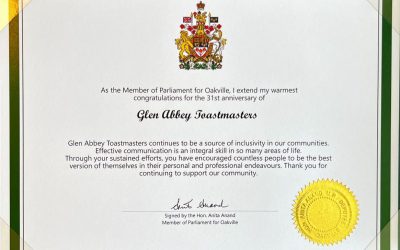 The Honorable Anita Anand, MP for the riding that Glen Abbey Toastmasters (GATM) calls home, has recognised us for our 30+ years of communication and leadership training. Over the past three...
read more