Glen Abbey Toastmasters is proud to have earned President's Distinguished Club status for the 22nd year in a row.
What is President's Distinguished Club status?
It is the highest level Toastmasters Club can achieve in a given year based on the Distinguished Club Program scorecard
What is the Distinguished Club Program?
The Distinguished Club Program includes 10 goals that every Toastmasters club in the world strives to achieve each year. The 10 goals are grouped into four areas:
Education: How many members completed various Toastmasters Pathways Education Levels
Membership: How many new, dual, and reinstating members were brought into the club
Training: How many Club Officers attend twice yearly Club Officer Training
Administration: Whether our club submitted dues / renewals on time twice yearly
Understanding The Scoreboard
Glen Abbey Toastmasters achieved 10 goals. Each checkmark on the right counts for one goal / one point.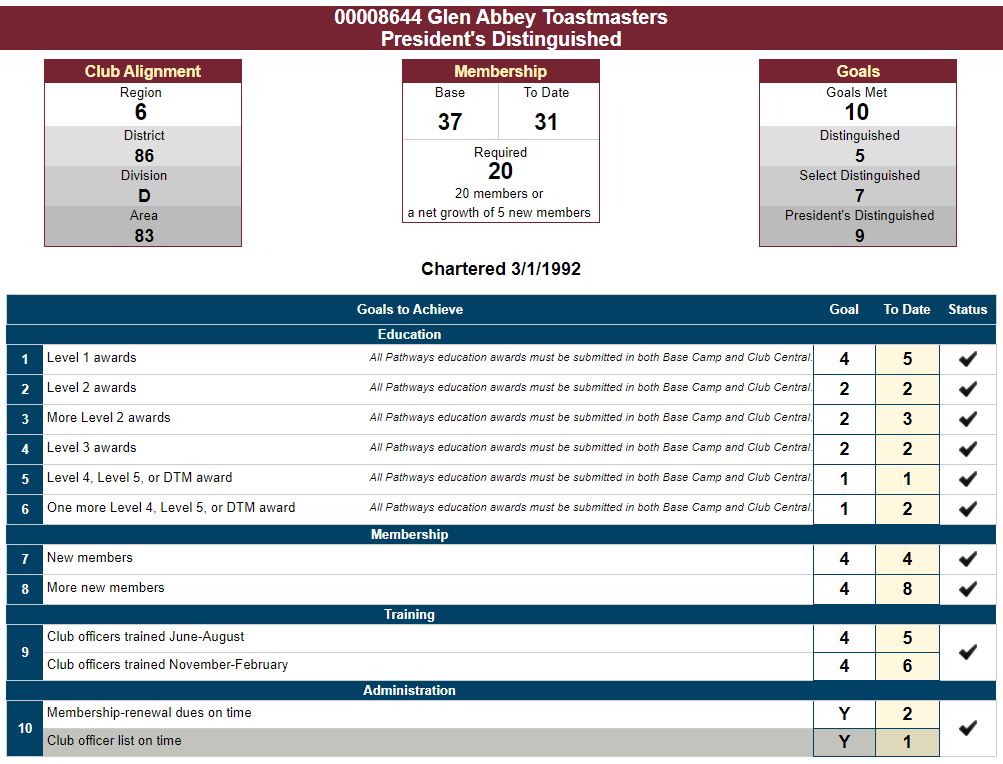 Why Does It Matter?
Achieving President's Distinguished status means:
Our club is strong – and has been for a long time
Our members are engaged – and make meetings interesting and memorable
We have a great mix of experienced and new members
Our members are achieving their education goals through a great program and strong club mentorship
Our Club Officers are committed to helping you on your Toastmasters journey.
If you'd like to become a great public speaker – visit our club any time.